Quiet Quitters: Reduce Silent Cancellations 
Many leisure operators face a common attrition challenge. Silent cancellations. Members are quietly quitting without telling operators why, often cancelling indirectly. This article explores this challenge and how you can overcome it.
You may have heard of the quiet quitting trend in the corporate world. Employees choose to do only what's specifically required of them at work and nothing more.
Did you know that your members may also be quiet quitting?
Recent research published in the Winning The War On Attrition report found that many members quietly quit. These members leave silently, cancelling their membership payment via their bank, experiencing a payment failure, or cancelling directly with their leisure centre without sharing why.
Top reasons for cancelled memberships
We looked to understand why members leave by analysing Xplor data from over 300,000 leisure, gym, and health club members who cancelled between January 2017 and April 2023*.
Our research showed that most members don't cancel their membership directly. 40% ended up with a cancelled membership due to a payment failure of some type. Typically, due to a member having insufficient funds in their bank account. Or the member cancelling the payment with the bank.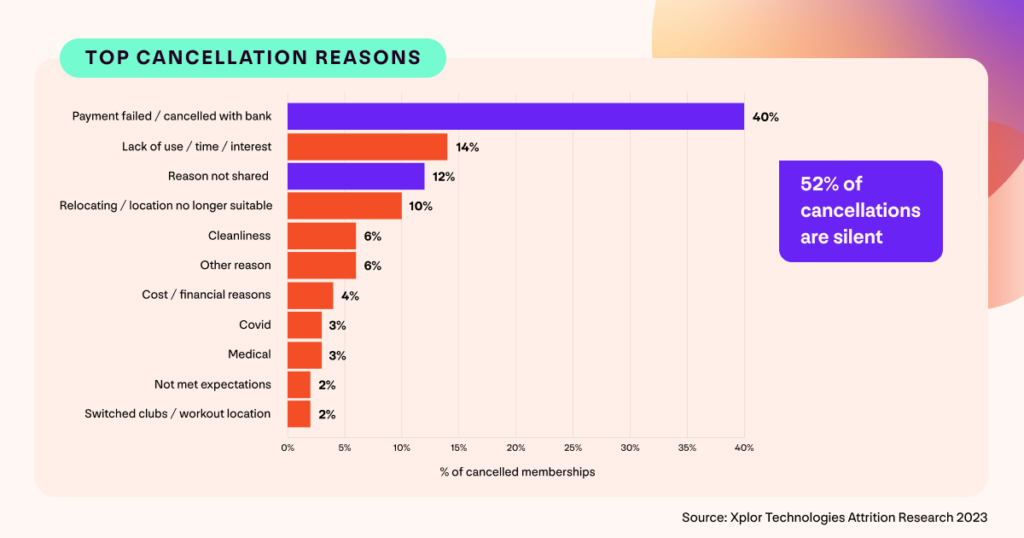 In addition, 12% cancelled directly with leisure operators and did not share why they were cancelling. Combined with payment failures, this means that 52% of former members cancelled quietly.
The danger of silent cancellations
Silent cancellations pose a significant risk to your leisure organisation and the wider industry. Without understanding why members leave, you can't make improvements to prevent others from leaving for the same reasons in the future.
If you want to grow your organisation and reach more of the communities you serve, you need to focus on cutting attrition and growing retention. To do that feedback is essential. And that means you need to reduce the number of silent cancellations to understand the real reasons why members leave.
"The majority of operators when asked about how they want their members to feel, usually answer with words containing 'part of a community', 'a sense of belonging', etc.…

To create a community, you need to understand your member's experience. Identify gaps between expectation and delivery, then proactively work to minimise these. This increases length of stay and creates raving fans. Raving fans stay for longer and help create that sense of community"

Julie Allen, Active Insight
Reducing silent cancellations
With the right approach, you can get a real understanding of why your members leave. And take action to resolve common concerns to keep more members with you for longer.
Practical ways to reduce silent cancellations:
1: Develop a feedback culture
Your members must feel psychologically safe to provide feedback, especially when it's not positive. That means you need to make it clear that you'll empathically listen and act on what you hear.
The most effective way to encourage honest leisure member feedback, in all situations, is to foster a feedback culture. A feedback culture is one where your members feel a deep connection to their leisure facility and that your teams always hear them.
An ideal starting point is to build an effective exit survey. Use this in addition to recording a leaving reason within your leisure management software.
Include a link to the survey in the email you send to a member confirming their membership has been cancelled. Where practical, let the cancelling member know to expect the exit survey and explain why it is important.
To get valuable, actionable insights from your exit survey follow these best practices:
DO: Choose open questions – so you get as much detail as possible from this survey
DO NOT: Ask closed questions that are not specific or include two questions in one (e.g., 'Tick if you are unhappy with the service or facilities')
DO: Ask if there's anything else the member would like to share – this gives members an extra opportunity to share the real reason(s) for leaving
DO NOT: Choose negative language (e.g., 'we hate to see you go')
DO: Share how you use the feedback you get (include examples from previous feedback if you can – e.g., 'you said, we did')
DO NOT: Make the survey very long – fewer questions and a quick survey will encourage a greater number of completions
2: Provide members with more control
In addition to creating a feedback culture, choosing to provide members with more flexibility and control over their memberships can limit silent cancellations. And even reduce the number of members who cancel.
Let members freeze
"Make sure you limit the amount of time a freeze lasts for. And communicate consistently during a freeze to encourage an early return and maintain engagement. This is critical to get members back after a freeze and avoid cancellations."

Guy Griffiths
Giving members the opportunity to freeze or suspend their membership for a time is a good alternative to cancelling if a member will not be able to visit for a specific period. Therefore, this is ideal if a member is travelling, occupied with family or work commitments, or experiencing short-term injury or illness.
Ensure the member comes back when the freeze finishes by offering an incentive or other reason to make a first return visit back.
Create a positive leaving experience
"We often say that first impressions count. Yet, each touch point of a member journey should be meaningful. And it's essential that if this moment is the last interaction with the club that it's approached positively and leaves a lasting impression."

~Julie Allen, Active Insight
Avoid making cancelling a difficult experience. If you can make cancelling straightforward and a positive experience, many members are more likely to re-join if the opportunity arises. And they are more likely to be honest about why they are leaving.
Allowing members to cancel online (making any terms and next steps clear), can encourage members to share why they are leaving you. This is particularly important for certain groups of members
65% of Millennials and Gen Z (born 1997-2012) opt for digital communications, rather than in-person. And 52% of Millennials and 44% of Gen Z are happy following non-company guidance when it comes to seeking customer service (relying on social media and online sources).
Millennials and Gen Z do not want to visit in-person or pick up the phone to cancel. Our research found that many cancel indirectly, 43.5% of former members aged 16-24.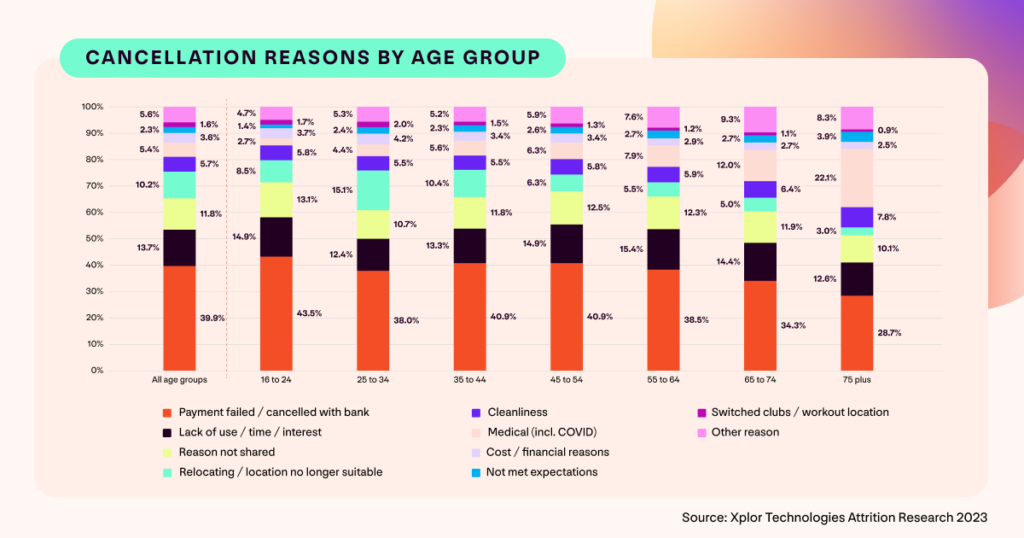 Make it clear how you want members to cancel. A digital option will encourage members (especially younger ones), to cancel directly with you. In your digital member self-service portal, give the option to cancel. Remember to capture a leaving reason and send an exit survey link.
You'll give members a non-confrontational option to cancel directly with you and tell you why they are leaving. This will help stop some members from cancelling silently and indirectly.
3. Choose the right payment processes
40% of members cancel indirectly with a membership ending due to a payment failure.
Payments are most likely to be unsuccessful as a member has cancelled the payment instruction directly with their bank. Other reasons include lack of funds in an account to cover a payment.
In addition to making it easier for members to cancel or freeze with you through digital channels, how you approach membership payments will reduce these indirect, silent cancellations.
These best practices can help you avoid membership payment failures leading to cancellations:
Verify all new Direct Debit mandates
Ensure you do this automatically ahead of a first collection, so you know that bank details provided are accurate. If details are not correct, send an automated follow up email and/or SMS that makes it simple for the impacted member to correct their details without creating extra workload for your team.
Accept new bank details
Allow your members to update their bank details online via your digital member services area. Ensure you make it as clear as possible when the new details will be used from if processing time is needed.
Take an automated, proven approach to failures
Where a membership payment is rejected, use an automated follow up approach. Make sure you let the member know what is happening and explain how to resolve the issue and/or get in touch.
Working with a partner, like Legend, who can manage much of this for you with a trusted, proven process, technology and team can help. Learn more about our membership payment capabilities.
Winning the war on attrition report
Do you want to reduce attrition, increase retention, and power lasting success for your organisation? Download the Winning The War On Attrition report to get insights and tactical ways to keep members engaged and motivated – so you retain more members for longer.
Download your complimentary copy.
* About the research:
The attrition insights featured in this article and the Winning The War On Attrition report are based on Xplor data from 714,674 leisure centre, gym and health club members paying by Direct Debit in the UK & Ireland.
As well as current members, it includes data on members who held a membership that's been cancelled between January 2017 and April 2023.
The data was collected in May 2023.